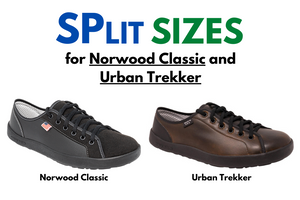 Split Size SOMs
Regular price $ 194.00 Sale


Have you struggled finding shoes for your differently sized feet? According to industry research, "roughly 60 percent of adults have one foot that is bigger than the other" (antoniasaintny.com). SOM Footwear has you covered with Made in America, zero drop shoes to strengthen mismatched feet one step at a time.

For an additional fee, Norwood Classic and Urban Trekker models are available for split sizes (no other models can be split). Please follow the steps below if you are interested in splitting your shoe size order.

Consult our Sizing Chart and Printable Sizing Outlines to find the correct shoe length and width for your feet. All of our shoes have wide toe-boxes that go up to a 2E in width (we cannot go any wider).
Select your model from the Style Options: either Norwood Classic or Urban Trekker.
Select your Right Shoe Size and your Left Shoe Size (each size will be listed in both Men's and Women's, so make sure to find yours).
Add to cart.
Place your order. (Since this service is Made to Order, orders will take longer than if they were shoes already in stock.)
*PLEASE NOTE: ALL SPLIT SIZES ARE NOT RETURNABLE OR EXCHANGEABLE. ORDERING THE RIGHT SIZES IS VERY IMPORTANT, SO PLEASE REVIEW OUR SIZING PAGE BEFORE CONSIDERING THIS OPTION.

If you have any questions, email us at somteam@somfootwear.com.